Reservation Policy
Full payment, by either check or credit card is due before arrival. Your reservation is NOT confirmed until your full payment is processed.
Cancellation Policy
If you find you need to cancel your reservation with us at any time for any reason, it may not be possible for us to re-rent the home or unit. Your payment, less a 30% cancellation fee based on your rate will only be refunded if the same dates are re-booked. While we make every effort to re-book your dates, please let us know as soon as possible in the event of a cancellation so we can open the dates for someone else.
View Availability and Rates
For online availability calendar and specific rate schedule please use these links Waterfront Guest House & Suites and Once in a Blue Moon Farm to our Webervations page.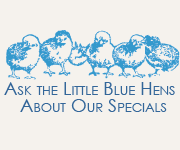 Contact Info
telephone : (360) 376 - 7035
hours: 9 AM - 9 PM (PST)
email : info@sleepingsea.com